In October five historic World War 2 'Kite' anchors, used for mooring the Mulberry Harbour roadways, were recovered from the bed of the Solent by Red7 Marine. Previously there has been only one known surviving Kite anchor which is in a private museum in Vierville-sur-Mer in Normandy; these new discoveries will enable several UK museums to also display one of these remarkable anchors.
In 1944 immediately following D Day two prefabricated harbours, code name 'Mulberry' were towed to Normandy and assembled off Gold beach at Arromanches and Omaha beach at Vierville-sur-Mer. Each harbour was approximately the size of Dover. The harbour at Omaha beach was assembled by the American Construction Battalions, or Seabees who, by cutting a number of corners had the harbour operational in a remarkable three days.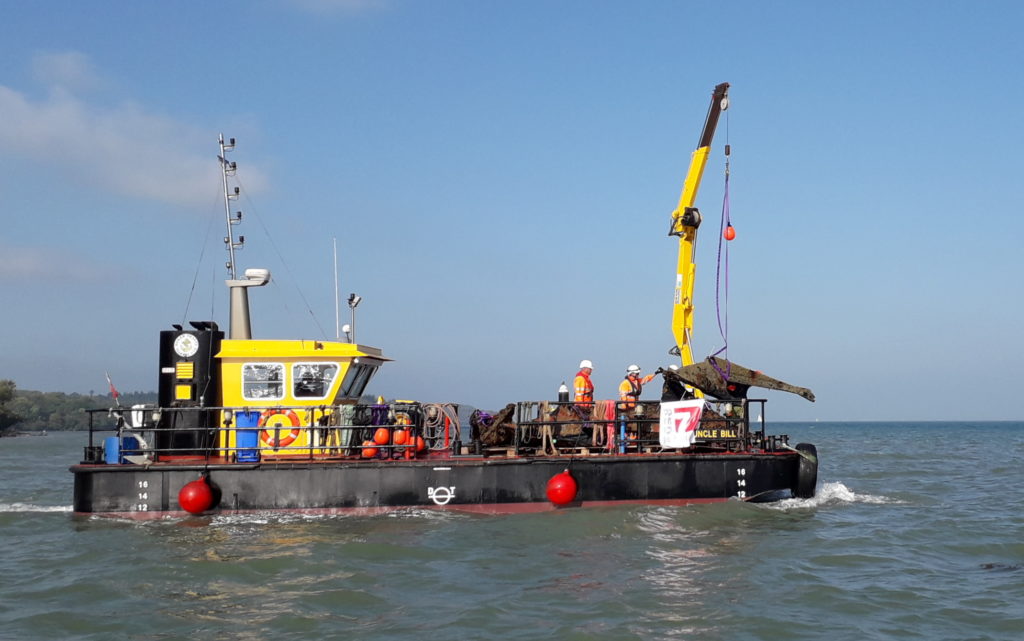 The Mulberry harbours were located off Normandy's gently sloping beaches so in order to berth and unload ships 'Spud' pier heads were towed to site and then secured in position by legs which they dropped to the seabed. A winch system partly lifted the pier head pontoons out of the water to provide a stable quayside platform that rose and fell with the tide. The pier heads were then connected to the shore by a number of floating roadways called 'Whale' roadways. They consisted of flexible steel bridge units each 80 foot long connected together by articulated joints and supported at each joint by a 'Beetle' flotation unit made either of steel or precast concrete. The Beetle units were held in position by wire cables secured to anchors.
The Whale floating roadways were designed by Allan Harry Beckett. At the time they were unique because they were designed and tested to survive in an exposed sea without breakwaters. All other floating roadways up to this point were only suitable for calm water use, such as crossing a river.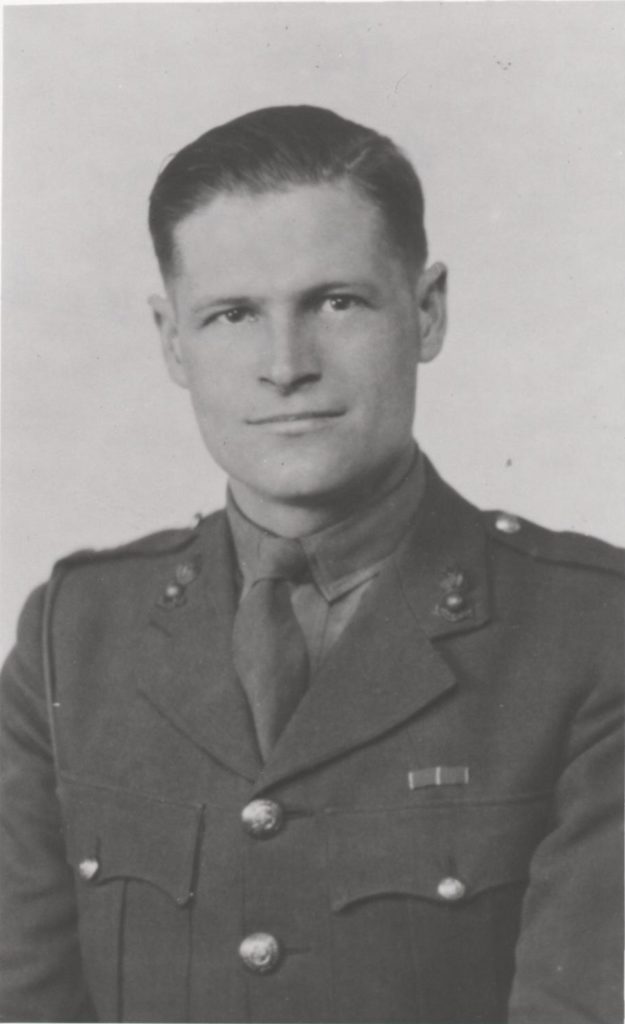 Allan calculated that the anchors securing the roadways needed to withstand a working load of 20t, or 30t with a safety factor. The best available anchors had a holding power of circa ten times their weight so anchors weighing 3t would be required and these would need large specialist vessels to lay them. But with few suitable vessels available and up to 2,000 anchors to be laid Allan realised that a much lighter, more efficient, anchor was needed that could be deployed without assistance from heavy lifting equipment.
Allan Beckett developed a new type of anchor called the 'Kite' anchor. This new design was radical because, unlike conventional anchors which remain on or near the surface and drag along the seabed under overload, the Kite buries itself ever deeper as the load on it is increased. Weighing just 330kg with a holding capacity of over 30t the Kite anchor has a holding power of over 90; this was unheard of performance 75 years ago and even today few, if any, anchor designs can match it. After the war Allan gave a lecture on how he designed the Kite anchor, a copy of his lecture notes can be found here.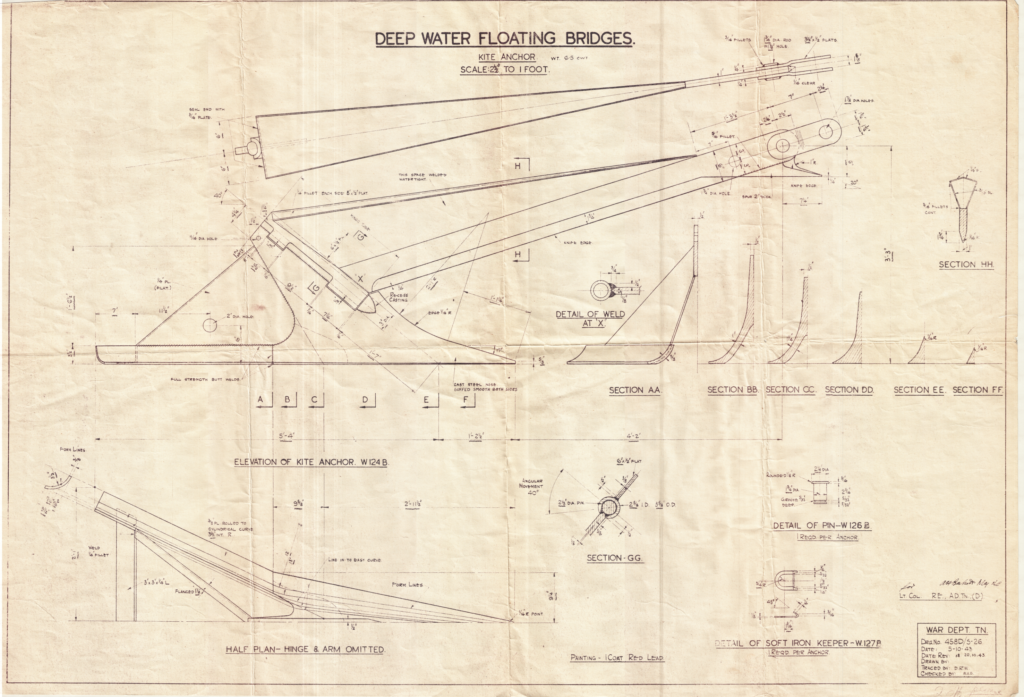 Allan recalled in his memoirs how when the prototype of the anchor was being tested by a sceptical tug skipper who attached the anchor cable to a 30 ton capacity load clock, threw the anchor overboard and steamed full ahead. The tug was brought up all standing with the wire cable singing like a harp string and the crew fled the after deck. On inspection the load clock needle was found to have bent. Further tests on the anchor were carried out with greater care!
As a result of the Kite anchors burying geometry they were, once heavily loaded, very difficult to recover and after ten months in service on Mulberry Harbour very few were recovered. However in run-up to D Day many of the Whale tows, with their anchors aboard, were moored in the eastern Solent. The aerial photo shows HMS Aorangi at anchor with tugs and 84 Whale tows each consisting of 6 Whale spans. It is in this area of the Solent that the anchors were found by local resident and yachtswoman Hilary Martin who brought them to our attention. Obtaining consents for lifting the anchors proved time consuming, not least because we first had to establish ownership for any museum to accept them. Eventually we managed to persuade the Royal Navy that they were theirs and they then donated them to the National Museum of the Royal Navy.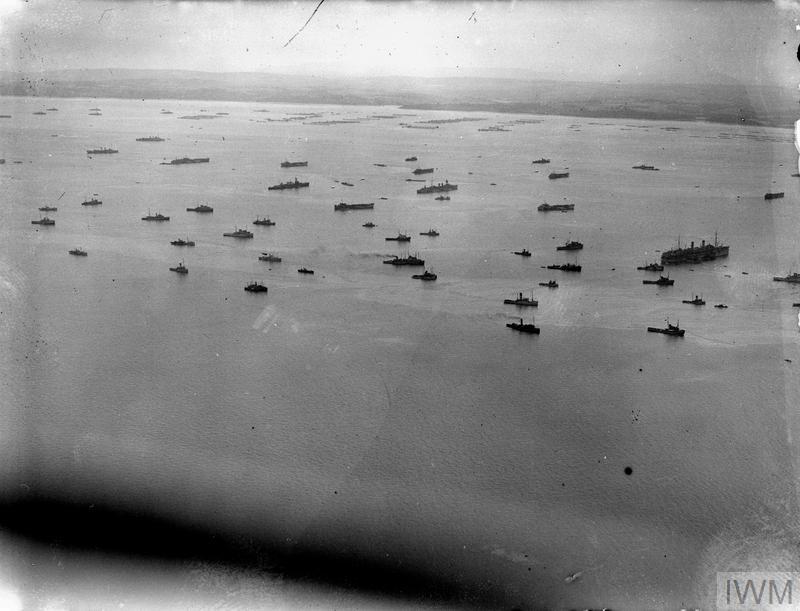 As part of the consent requirements we commissioned an archaeological assessment of the anchors which was carried out by Martin Davies and Stephen Fisher of the Nautical Archaeology Society, a copy of their report can be found here.
The anchors are now being conserved in the treatment tanks of Mary Rose Archaeological Services at Portsmouth where they will remain for about a year before being given to the museums that have requested them. We particularly look forward to one of the anchors joining the Whale roadway span at Imperial War Museum's Duxford site.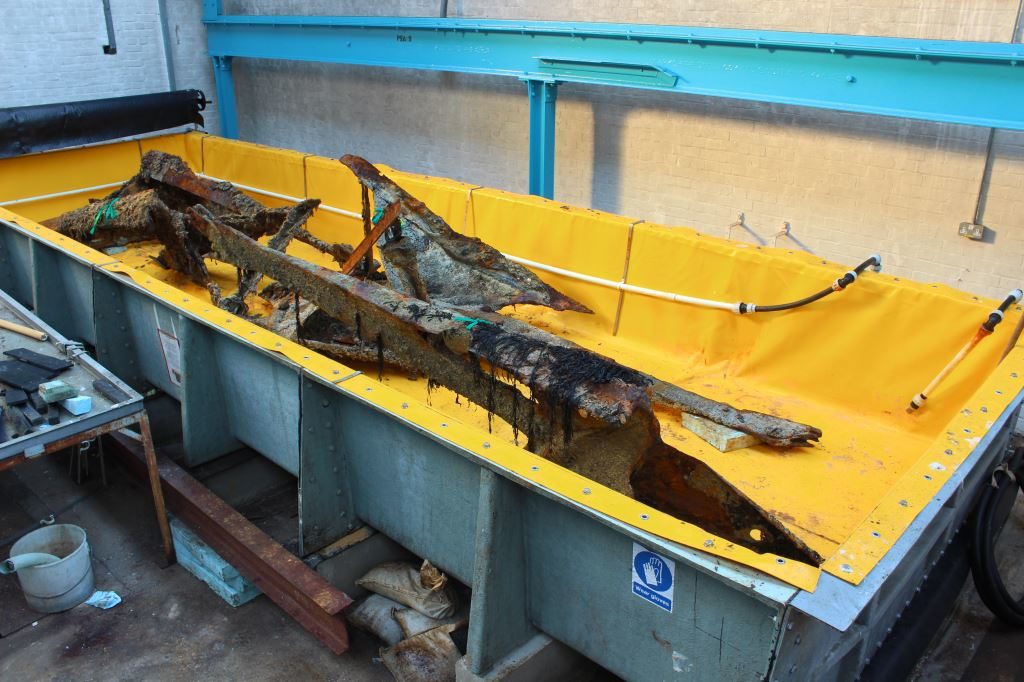 To see further contemporary documents relating to the design of the Mulberry harbours visit our archive site at www.mulberryharbours.com