The UKTI Ports Trade Mission organised by British Expertise and led by James Sutcliffe visited JNPT and was welcomed by Chairman Mr L Radhakrishnan. Located on the eastern side of Mumbai harbour, JN Port is India's largest container port and last year handled a record 4.27 million TEUs of container traffic. While much of the cargo is destined for the city of Mumbai itself, substantial volumes of containers are transferred through the rail terminal towards the massive northern India hinterland extending along the transport corridor towards Delhi. The Chairman outlined his substantial plans for further development over the next few years, including construction of new terminals and associated infrastructure to expand capacity to over 10m TEUs over the next 4 years and a further 8m TEUs in the long term.
Before approaching the port by boat the group passed the historic Marine Oil Terminal that was designed by our predecessors in the 1950's. Constructed at Butcher Island the terminal provides an offshore oil handling facility that is connected to Mumbai's industrial sites on the mainland at Trombay through 2 miles of submarine pipeline.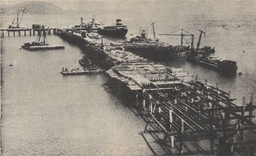 After nearly 60 years the terminal is still in daily use by larger vessels than it was originally designed for, with one tanker berthed at the time of the visit. There were several innovative design features on this pioneering project. These included the "Benoto" process for fixing the concrete piles in the bedrock and the 650t concrete gravity fender system which is widely appreciated by ship masters for its gentle reaction. There cannot be many 60 year old fender systems still providing such effective service.
The detailed technical paper "The Design and Construction of Bombay Marine Oil Terminal" written by Sir Bruce White, Colin White and Allan Beckett was presented to the Institution of Civil Engineers in 1967 and can be downloaded here.