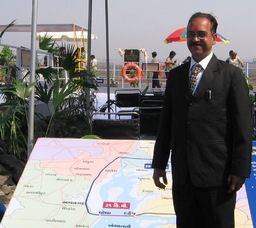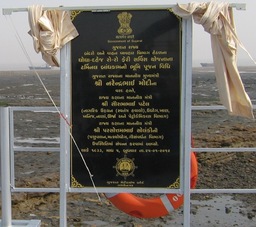 Gujarat Chief Minister Shri Narendra Modi visited Gogha and performed the stone-laying ceremony for the new ferry terminal and the RoRo service to another new terminal at Dahej. He gave a well received address to the vast audience while standing on a mocked-up pontoon, that had been specially assembled alongwith a model of the RoRo vessel with its ramp open as well as the berthing and other marine structures. GMB's Chairman Mr Sinha, CEO Mr Pankaj Kumar and Chief Engineer Mr Talavia who have all been instrumental in development of this groundbreaking project, were supporting the CM on the platform.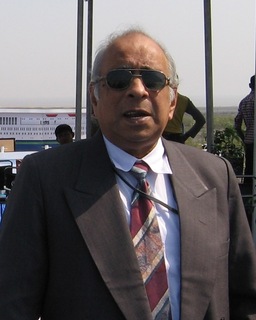 A K Mehta who is GMB's Project Manager can be seen with a map of the new ferry route alongside the mocked-up terminal. The Beckett Rankine India team were represented by Dileep Bhagwat and Siddharth Shah.
Here is a link to deshgujarat.com's news item including a video of Chief Minister Shri Narendra Modi speaking while laying the foundation stone.