Beckett Rankine, Peel Ports and Farrans celebrated the maiden voyage of the Stena Edda ferry to Belfast on Monday 9th March.
Beckett Rankine, assisted by Houlder, developed the design for 'double-decking' the existing 70m x 30m twin-berth pontoon including the installation of an additional 110m fixed bridge with a 60m steel linkspan connecting to a 400t pontoon upper-level roadway. The works also included the provision of additional mooring and berthing dolphins.
The Twelve Quays – Two Levels project is a major investment for both the Peel Ports Group, and their customer Stena Line, at this Ro-Ro Terminal in Birkenhead on the river Mersey. Constructed by Principal Contractor Farrans who were supported by Ravestein B.V and Royal HaskoningDHV, the facility has had an £18m modernisation programme of works in order to accommodate Stena Line's new fleet of E-Flexer class ships providing Ro-Pax services on the Belfast-Liverpool route.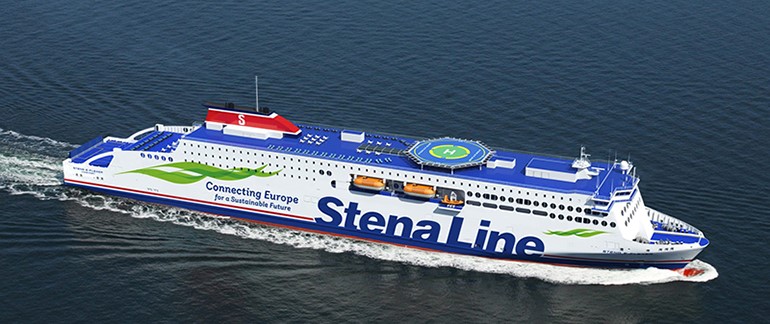 The new E-Flexer class of vessel is larger and heavier than the vessels which the Twelve Quays terminal was designed to receive and, in addition, can offload from both upper and lower levels whereas at present only lower-level loading/unloading takes place. To enable this second loading level of the ship, major modifications to the Ro-Ro berth were required.
Peel Ports approached Beckett Rankine in 2017 to develop a solution which would enable a secondary roadway to be installed above the pontoon deck without disrupting existing operations, sailings or increasing the footprint of the pontoon. Beckett Rankine worked with Naval Architects Houlder to develop a lightweight structure that could be installed in-situ between vessel sailings.
The solution we developed balanced the need for sufficiently sized yet robust upper roadway whilst maintaining an acceptable level of freeboard and stability of the pontoon. The scheme uses a series of 'goal-post' frames across the pontoon to enable the movement of vehicles on the lower deck of the pontoon, whilst the new roadway is supported on top.
To access the upper roadway a new linkspan was designed together with a piled access roadway. To enable the longer ships to be moored two additional monopile dolphins were installed, one mooring dolphin and one breasting dolphin carrying a parallel motion fender to match the existing. These monopiles were grouted into sockets bored in the underlying sandstone.
One of the main difficulties in constructing the works was the constraints of the existing structures which made it very difficult to position cranes to lift in the new linkspan. Eventually Farrans decided to do this with a tandem lift as can be seen in the photograph at the head of this article.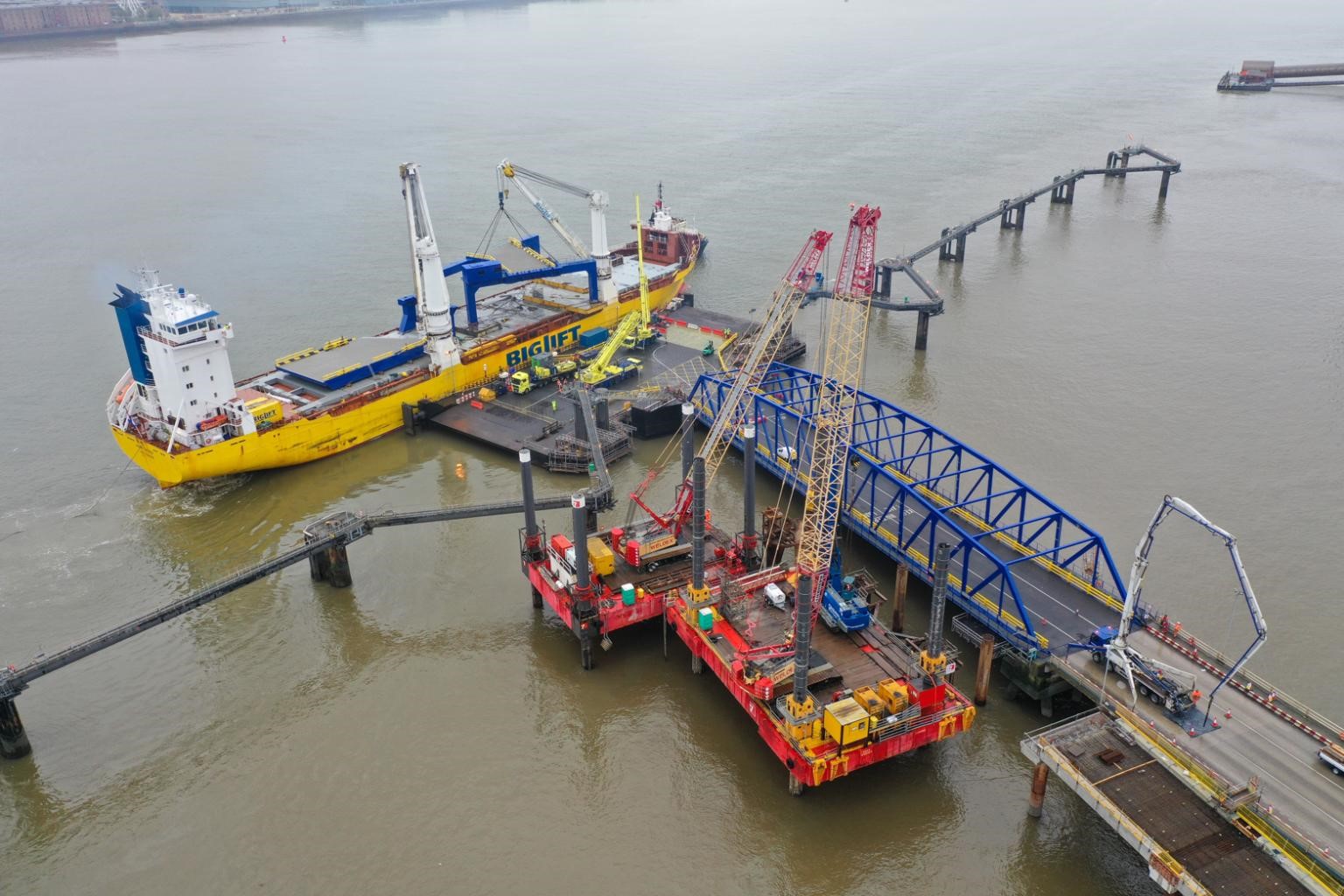 Completed in late January, the development is part of a new £200m+ investment in ferries and port upgrades into the region as part of a 25-year commitment. We wish Stena Line and all their crew the best of luck in the operation of the expanded route!