Preparations are continuing for a £100m investment into a new marina on the Isle of Man.
The marina is being proposed by Ramsey Marina Ltd (RML) as a project to take advantage of multi-million investment into marine leisure by the Governments of Scotland, Ireland, Wales and Northern Ireland.
If plans progress, Ramsey Bay Marina will be the Isle of Man's first all-weather, all-tide marina.
Plans for the marina at Ramsey Bay began in 2019 but were scuppered by the Covid-19 pandemic. A new administration is now adding impetus to the project and an environmental impact assessment is underway with a planning application scheduled for Q4 of 2022.
Lead architects, Manser Practice, and civil consultants, Beckett Rankine, have been appointed and it is hoped that the marina could be open by spring 2025.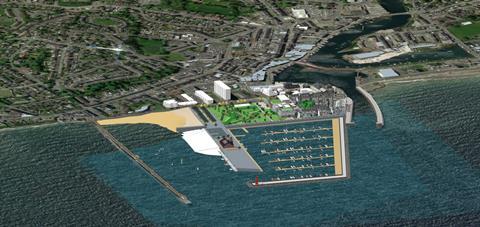 An aerial view of the proposed marina at Ramsey Bay Photo: RML
"We see the marina as a major stepping stone for those transiting from the Irish Sea of those coming to Ramsey as a 'sail to' destination," said Robin Bromley-Martin, director of Ramsey Marina Ltd (RML).

Crossroads
Located at the 'crossroads' of the northern Irish Sea, Ramsey Bay Marina will have 400 berths each with a minimum depth of 3m. Depths for larger vessels (up to a maximum of 25m) will be between 5m and 6m. RML plans to set aside one fifth of the berths for visitors.
The marina will offer full amenities and access to repair and maintenance facilities as well as a wide range of shops, bars, restaurants and a boutique hotel. Alongside will be a mixed commercial/residential development.
The marina will also be the base for the island's National Maritime Sports Centre which will apply for accreditation with the Royal Yachting Association, British Caneoing and others to provide courses for beginners through to experienced sailors. It will be modelled on the Cowes based UK Sailing Academy.
RML also believes the marina will open up opportunities to host events from local regattas to international sailing events.
Source: boatingbusiness.com