Shadwell Basin Outdoor Activity Centre is a charity that has been providing water-sports and adventurous outdoor activities for youngsters since 1976. Al though based on the Thames the Centre's access to the river has been poor quality via a steep and ancient flight of steps. Handling sailing dinghies up these steps, while possible, has been very difficult. Access for the Centre's disabled students has been nearly impossible. The Centre has wanted a new slipway at an easy gradient for decades but could not afford it.
The Thames Tideway Tunnel project is constructing one of its drop shafts on the foreshore in front of King Edward Memorial Park, which is immediately downstream of Shadwell Basin OAC's steep access to the river; there was concern that the presence of the cofferdam would make the difficult access even more challenging. As a solution, Thames Tideway proposed to construct the new slipway that the Centre has always wanted.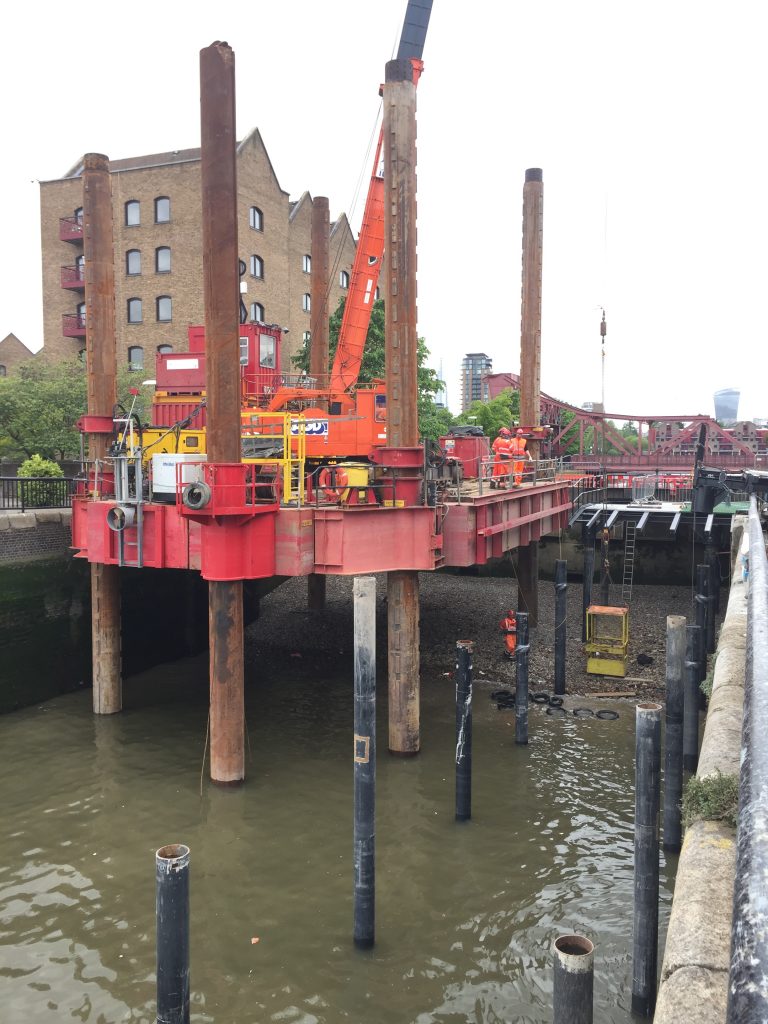 The new slipway, which has been designed by Beckett Rankine working for D&B contractor Volker Stevin, is located within the, now sealed, lock entrance to Shadwell Basin. To minimise loss of flood volume the slipway is an open piled structure with a steel deck frame and grp grid decking.
As the base of the lock consists of alluvium overlying the brick and concrete lock bottom the piles were drilled and grouted into sockets. The drilling rig being located on a jack-up barge. Once the piles were trimmed to level the slipway deck units were lifted into place in five sections. The connections to the piles were made with grouted sleeves to provide for tolerances. Finally, timber side walings were added to prevent small boats from getting underneath the slipway.
The design of the slipway was developed closely with the Centre who requested a stepped edge to facilitate boarding dinghies and canoes by the disabled. The slipway also has a winch to facilitate launching and recovery of dinghies and the Centre's safety boats. These operations can now be done easily at any state of the tide.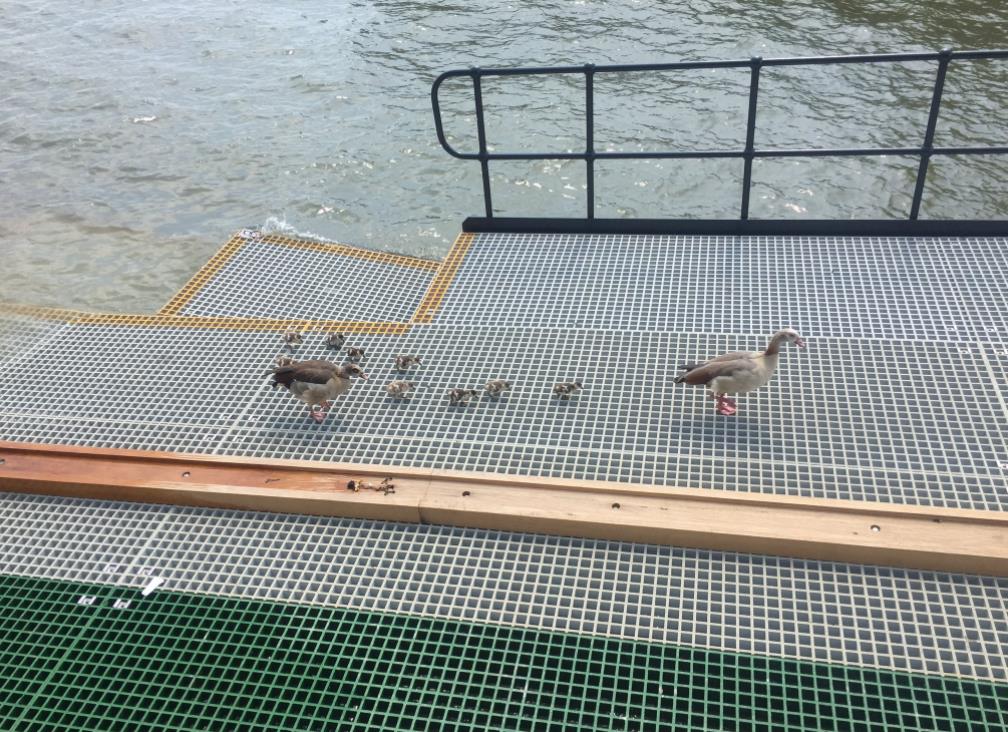 Source: Shadwell Basin OAC @ Twitter
Pleasingly it is not only Shadwell Basin OAC and their pupils who are delighted with the new slipway, it's also popular with a local family of Egyptian geese.