The "Handlebar" Bridge.
While regrettably it has not made the shortlist our design for the proposed Nine Elms to Pimlico foot and cycle bridge has received wide acclaim for its delicacy and innovative design. The proposal was developed jointly with architects Lifschutz Davidson Sandilands, structural engineers Expedition, landscape architect Kim Wilkie, lighting designer Speirs & Major and cost consultant Gardiner and Theobald.
The curved bridge swoops up along each bank to arc across the river. The handlebar shape suggests agility and movement creating a landmark; there is no other bridge like it. The curving bridge offers different experiences of the upstream and downstream vistas. It opens its arms to the upper reaches of the river and Battersea and leans out toward the downstream and West End panorama.
The brief was a challenging one since there is very little land available at either side of the river and the bridge had to safely accommodate high volumes of both cyclists and pedestrians. Further complication was provided by the onerous navigational constraints and a wide exclusion zone for the Thames Tideway Tunnel where foundations could not be located. We ruled out any solution that required lifts for the cyclists and instead have provided easy approach ramps above the river. While other entries in the competition use circular ramps we think that people dislike walking or cycling round in circles.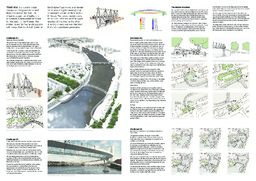 Click on the image to download a PDF version of our
entry.
On the Handlebar Bridge bikes and pedestrians would be separated in plan and in section; pedestrians on the outside of the curve walk above the cyclists riding around the inside and beneath them. The arrangement is dynamic but safe and gives all users spectacular views on both sides.
Importantly for local residents there would be minimal disruption to Pimlico Gardens and all its magnificent trees would be retained.
The bridge structure is an innovative and highly tuned three-dimensional truss. The sinuous form is made up of diamond shaped frames linked at top and bottom by slender steel sections and at the sides by concealed members supporting the precast cycleway and footway. The diamonds alter in width and height to respond precisely to bending and torsion, appearing to dance free of the decks. Our cost estimates show the design to be achievable within the project's £40m budget.
The other designs in the competition can be seen on the competition website nepbridgecompetition.co.uk