Commissioned last February by Peel Ports to inspect, analyse and specify the refurbishment works for the North Outer and Inner sliding caisson lock gates at Chatham's Commercial Docks; Beckett Rankine planned and oversaw the controlled lifting and the refurbishment works.
As a suitable dry dock was not available, the caissons had to be lifted onto a specially strengthened area of quayside in order to carry out the refurbishment that will allow them to remain operational until 2027. The lift was completed using two Bonn and Mees sheerlegs since a single sheerlegs large enough to lift the caissons is too wide to fit through the lock.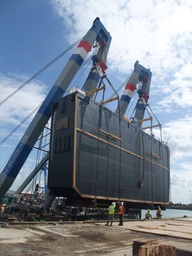 Before lifting the North Outer caisson in May, the caisson was test floated to check the float-out procedures and to measure the approximate displaced volume and therefore the caisson's mass. The North Outer was successfully lifted in early June and, after completing the refurbishment works, it was returned to the water in early August. The North Inner caisson was then removed and lifted onto the quayside.
A stop motion video of the lifting operation can be found here.